Waterdown Chiropractors Provide Care for Your Whole Family
Kinstruct Health Chiropractic & Wellness Offers a Unique and Proactive Approach to Health Care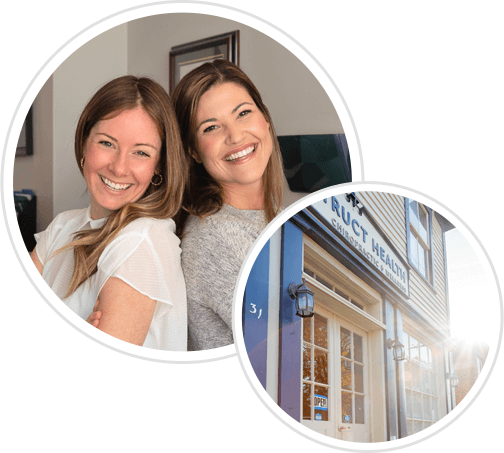 Waterdown chiropractors, Dr. Laura Dobrinsky and Dr. Kate O'Hare warmly welcome you to Kinstruct Health Chiropractic & Wellness.
We take great pride in providing the best patient experience possible; which includes providing the highest quality drug-less, non-surgical care available. Our office is warm, inviting and family friendly with a large playroom for the kids. Even with a special focus on family wellness, we welcome all individuals looking to restore their health and enhance their body's ability to adapt to stress. There is no better time than now to take a proactive role in your health.
Our health practitioners know that it is not only important that you get well, but that you stay well. Daily stressors have a quiet way of sneaking in and changing a person's health. Chiropractic wellness care works to enhance your body's innate ability to adapt and heal by improving the function of the nervous system. We provide many additional services at our office to compliment your chiropractic wellness care. Seeing families happy, healthy and connected is the best part of what we do here.
The Kinstruct Health Chiropractic & Wellness team will give you the care and hope you need to move your life in a positive direction.
Health is a Journey, Not a Destination
We're here to guide you on every step of your journey. We'll provide you the education and inspiration you need to continue improving your health each day.
A variety of solutions can be found at our practice, including:
Healthy Families, Healthy Community
We encourage you to not only call for a health assessment but to also consider having the entire family assessed. Early neurological, postural and dietary evaluations may give important insight to the health and wellness of your child, or other family member. We offer affordable family plans to help each family member restore their health and benefit from regular care. We look forward to seeing you soon!
Recover your body's ability to heal in our warm environment. Contact us to schedule your time!