Massage Therapy in Waterdown
Increase Your Healing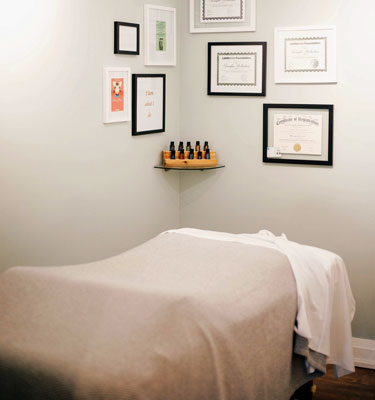 Massage therapy is the hands-on manipulation of the soft tissue. It can benefit your muscles, connective tissue, tendons, ligaments and joints. The therapeutic use of massage has a positive effect on all the systems of the body, including the circulatory (blood and lymph), muscular, respiratory, fascial and nervous systems. The types of massage vary from relaxation to specific treatments.
A Healthy Response
During a massage, a whole range of beneficial reactions is set in motion. We can help eliminate waste and toxic debris stored in your muscles. An increase in the interchange of substances between the blood and tissue cells will be facilitated. Your tissues will become more oxygenated and the natural relaxation response in your nervous system will be stimulated.
Repairing Your Body
Your body's responses to massage can help strengthen your immune system, improve your posture and increase your joint flexibility and range of motion. Everyone can benefit from a professional massage. Massage therapy can:
Aid recovery from strained muscles or sprained ligaments
Ease the stresses of childbearing, including deem, backaches and exhaustion
Help prevent injury or subsequent re-injury
Improve your energy and alertness
Increase the nourishing blood supply to your tissues
Provide soothing relaxation or deeper therapy for physical problems
Provide pain management
Relieve certain repetitive motion injuries
Relieve stress and anxiety
A Qualified, Professional Team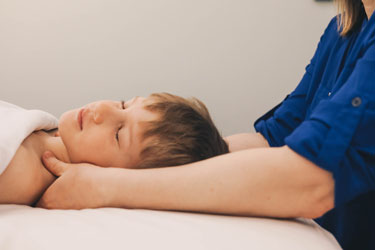 Pediatric Massage Therapy with Jennifer Robertson
Our registered massage therapist (RMT), Jennifer Robertson, has completed her education and required clinical hours to receive her qualification. Jennifer's regular continuing education courses assist her in giving you the best care possible. A registered massage therapist means we're healthcare practitioners and your visits can be covered by insurance.
Feel good inside and out with the help of our massage therapy. Contact us today to schedule your time.
Massage Therapy in Waterdown| Kinstruct Health Chiropractic & Wellness