Our Services
Making sure you're comfortable is our top priority. After your thorough examination, we'll decide together which of our services is most appropriate for you and which of our chiropractic techniques will suit your needs.
Family Chiropractic (In-person, and

Virtual Care Available

)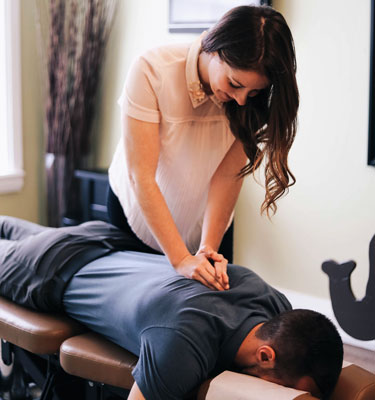 Let us create a partnership with you and your family to achieve optimal health. Dr. Laura Dobrinsky and Dr. Kate O'Hare specialize in safe, specific and gentle techniques for all ages. We'll help restore your body's natural ability to heal and function with specific and gentle chiropractic adjustments. Chiropractic care involves the detection and analysis of restrictions to the nervous system (subluxations) and the reduction of these restrictions through specific spinal adjustments. We're able to use manual and instrument adjusting techniques or craniosacral therapy. Our comfortable adjustments are appropriate for all ages.
Pregnancy & Pediatrics
Dr. Laura is a member of the International Chiropractic Pediatrics Association (ICPA) and the Holistic Pediatric Alliance, as well as Epic pediatrics (an international group of chiropractors dedicated to serving children in their communities). She is well-versed in a variety of different techniques that are appropriately gentle for babies, children and pregnant women.
Acupuncture
Acupuncture will encourage your body to promote natural healing and improve function. This is done by inserting needles at precise acupuncture points and applying electrical stimulation. A wide range of medical problems can find great healing through the use of acupuncture.
Naturopathic Medicine
Naturopathic Medicine uses natural therapies, including nutritional counseling, botanical/herbal medicine, acupuncture and homeopathy, to treat the root cause of our concerns and conditions. The focus is on the promotion of self-healing, which can be accomplished when in the right physical, mental/emotional and environmental states.
Massage Therapy
The hands-on manipulation of the soft tissue will have a positive effect on all systems of the body. Massage will treat your muscles, connective tissues, tendons, ligaments and joints to give a therapeutic benefit to your circulatory (blood and lymph), fascial, muscular, respiratory and nervous systems. We offer specialized care for pregnancy and pediatrics.
Are you ready to find out which of our solutions would meet your needs? Contact us today!
---
Kinstruct Health Chiropractic & Wellness | (905) 689-4447