Meet Dr. Kate O'Hare
Falling Into Chiropractic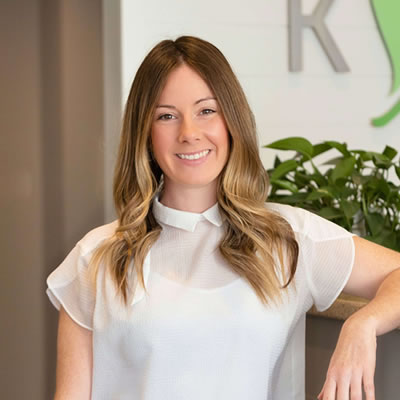 I don't have an athletically inclined bone in my body yet my childhood was filled with all sorts of athletics. My two left feet usually ended up leaving me with an embarrassing story instead of the winning home run. That being said, my parents' relentless attempts to promote a healthy lifestyle through sport must have rubbed off on me because I went on to pursue a Bachelor of Arts, majoring in kinesiology and psychology from the University of Western Ontario.
Like many new university graduates, I had no idea what to pursue next apart from knowing that I wanted a career in healthcare. I was lucky enough to be offered an internship at a local chiropractic clinic and it was there that I became fascinated by the nervous system. Around that time, I began getting adjusted regularly and noticed that after experiencing years of severe recurrent headaches, they were improving. In fact, a headache would resolve almost immediately following an adjustment. Until that point, I had been a lifelong Advil consumer and was astonished that I could experience the same results with a chiropractic adjustment. I couldn't believe that after 15 years of headaches, the solution was as easy as improving the mobility of my spine and the function of my nervous system.
I developed a profound respect for the healing and regulating powers of the nervous system. More importantly, I began to realize that the state of our nervous system is the foundation for the state of our health. This made a lot of sense to me because, and to quote Grey's Anatomy, "The nervous system controls and coordinates all organs and structures of the human body." My mindset began to shift from looking at healthcare from a disease standpoint to one that emphasized the preservation of health. And henceforth, my journey as a chiropractor began.
Educational Background
I graduated from the Canadian Memorial Chiropractic College in 2015. Since then, I have been dedicated to providing exceptional family oriented chiropractic care that is guided by leading research. My practice techniques include diversified, Thompson, Webster and activator and I have completed continuing education courses in functional neurology, prenatal health and pediatrics.
A healthy person has the capacity to do anything with their lives.
What's Important
The way I see things, the single most important thing in life is your health. It is the most fundamental stepping stone to everything else. As a chiropractor, my mission is to be a part of a global change in the healthcare paradigm. I want to see a shift from focusing on improving sickness to maintaining health. With this shift, we can limit illness, live to a greater potential and give our kids and their kids the opportunity to live a fuller life.
The change starts with you. Empower yourself to take control of your health. As a community, through education and chiropractic, we can work together to foster a change.
Ready to get on the road to wellness? Contact us today to schedule an appointment with Dr. Kate.
---
Waterdown Chiropractor Dr. Kate O'Hare | (905) 689-4447