Acupuncture in Waterdown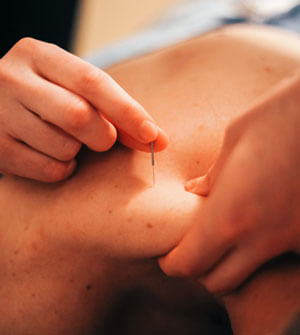 At Kinstruct Health Chiropractic & Wellness, we believe acupuncture provides not only pain relief but helps facilitate healing by improving tissue repair. This ancient and effective therapy is complimentary to chiropractic care, massage therapy and naturopathy. Acupuncture care is carried out by Dr. Margot, our Naturopathic Doctor.
Acupuncture is a method of encouraging the body to promote natural healing and improve function. This is done by inserting needles and applying electrical stimulation at very precise acupuncture points. Inserting a needle into local tissue helps to increase blood supply to that area. In turn, healing is facilitated. Needling may also help to break up trigger points and encourage tissue repair.
Feeling Great and Healing Well
Studies have shown acupuncture and electro-acupuncture to stimulate the release of endorphins, modulate the transmission of pain pathways and suppress or deactivate areas for pain processing in the brain. Acupuncture works to restore homeostasis and balance to the nervous system.
Supporting Your Health
The World Health Organization recognizes the use of acupuncture in the treatment of a wide range of medical problems, including:
Digestive & Respiratory Disorders
Gastritis and hyperacidity
Irritable bowel syndrome
Constipation
Diarrhea
Sinusitis
Bronchitis
Asthma
Recurrent chest infections
Tension and Stress Conditions:
Adrenal fatigue
Anxiety
Behavioral disorders
Depression
Emotional trauma
Irritability
Substance abuse
Neurological and Muscular Disorders:
Anovulation
Facial tics
Frozen shoulder
Headaches
Infertility
Low back pain
Male and Female Conditions:
Menopausal symptoms
Menstrual pain
Neck pain
Osteoarthritis
Reproductive problems
Rib neuritis
Sciatica
Tennis elbow and tendinitis
Urinary
Are you wondering if acupuncture might give your health the support it needs? Contact us today to find out more.
---
Acupuncture in Waterdown| Kinstruct Health Chiropractic & Wellness